Manage Picture
KeyCreator \ Tools \ Non-Geometric \ Picture-Manager \ Manage-Picture

Location: Tools>Picture Manager>Manage Picture
Use the Manager Picture function to manage your pictures through a dialog that appears when the function is selected. Through this dialog, you are able to manage the picture list, as well as load, add, and modify selected pictures.
Using the Function:
Select Manage Picture from the Tools>Picture Manager submenu.

The Picture Manager dialog appears (see below). Configure the dialog options and click OK.
Dialog Options: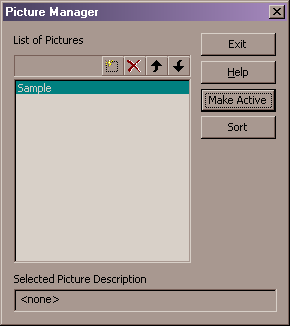 List of Pictures
Any pictures loaded in the Picture Manager are displayed here. To move a picture to the top of the list, select the name and click on the MOVE TO TOP button option. To move a picture up one space, select it and click on the MOVE UP button option. Pictures can also be moved down in the list using the MOVE DOWN (one space) and MOVE TO THE BOTTOM options.
MAKE ACTIVE
Select this to load the picture currently selected in the List.
NEW
Select this button option to add a new picture to the list. The Picture Manager Insert Data dialog appears, through which you can specify a name and description for the new picture.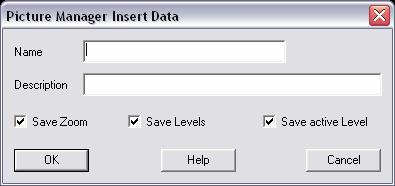 DELETE
Select this button option to remove a selected picture from the list.