Plateau Mill
KeyCreator \ Tools \ Machinist \ Finish \ Plateau-Mill

Location: Tools>Machinist>Finish>Plateau Mill
Using the Plateau Milling method, the cutting tool follows the contour of the part staying at a constant Z-level while machining. This method is designed for parts with a large number of vertical or near vertical surfaces. Plateau milling can be set to machine logical zones of the job independently, or set to cut one specific Z-level throughout the job before ramping down to the next specified Z-level.
When you select this function, the Plateau Milling (Constant Z) dialog appears shown below, containing offset and tolerancing settings, among others. When you click the OK button, a second dialog appears. Configure the available settings and click OK. The toolpath is created according to your specifications.
Plateau Milling (Constant Z) Dialog Options: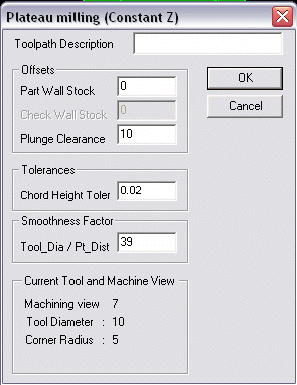 Toolpath Description
Specify a name or description for the toolpath being created.
Offsets
Part Wall Stock – Specify how much stock to leave in 3D.

Check Wall Stock – Specify the distance away from the check geometry the cutting tool will remain.

Plunge Clearance – Specify a height above the cutting plane at which the Z-Axes will go into feed mode.
Tolerances
Smoothness Factor
Current Tool and Machine View
Verify that the machining view, tool diameter, and corner radius are correct.