Toolpath Verify Window
KeyCreator \ Tools \ Machinist \ Path \ Toolpath-Verify-Window
The Verify Window appears once Part Zero has been indicated for the Path>Verify Toolpath function. This dialog contains a preview window in which the toolpath(s) you had selected will appear. Use the available button options (listed below) to modify different aspects of the toolpath preview.
Dialog Options: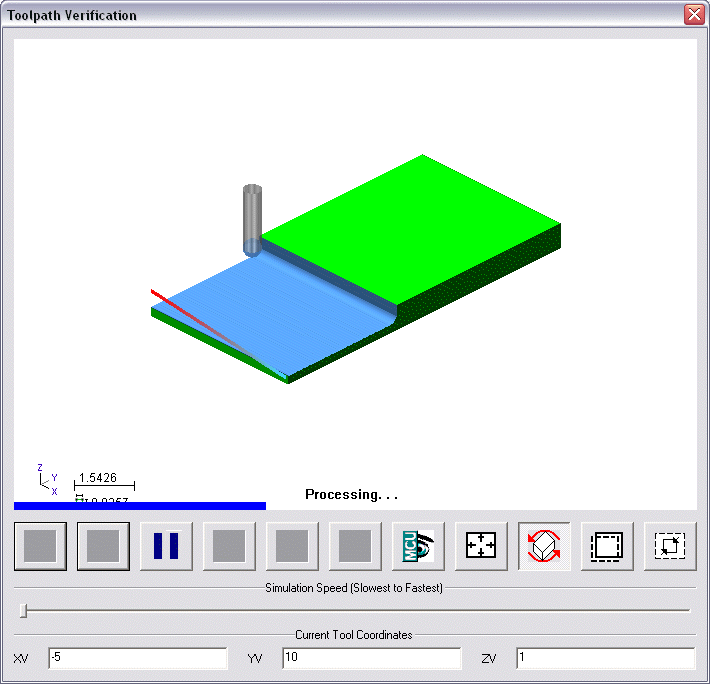 Simulation Speed (Slowest to Fastest)
Move the slider from left to right to slow or quicken the speed of the simulation. Moving the slider will cause the speed to slow, moving it right will quicken the simulation.
NOTE: Changes to the simulation speed must be made before you hit the PLAY button option, or after a RESTART. Changes made after the PLAY option button has been hit will not be recognized.
XV, YV, ZV
Specify values for the XV, YV and ZV coordinates.
Button Icon

Function

RESTART

PLAY

PAUSE

NEXT MOVE

PREVIOUS TOOL

NEXT TOOL

LAUNCH MENU (view the current toolpath in MCU)

NOTE : The Verify window must remain open for as long as the toolpath is viewed in MCU. Closing the Verify window will also close the MCU session.

FIT (also accomplished by double-clicking with the left mouse button)

ROTATE (double-clicking with the right mouse button will autoscale the part of the toolpath directly under the mouse cursor, and place the rotation center on the selected entity)

PAN (also accomplished by holding the middle mouse button and dragging)

ZOOM (also accomplished using the scroll wheel)